The Neptune Fountain is one of the famous attractions in Berlin. It is one of the oldest and most beautiful fountains in Berlin. Located on the Alexanderplatz, on the large open square between the television tower, St. Mary's Church and the Red Town Hall it invites to linger and marvel at the sculpteres.
Short story about Neptune Fountain.
Karl Friedrich Schinkel, a famous architect, suggested the construction of the fountain. It was originally located in front of the city palace. Its builder Reinhold Begas gained fame by building it and it was a gift to emperor Wilhelm II from the city of Berlin. The mighty sea god Neptune rises with his trident from the depths of the sea (from a fountain bowl made of granite). The four female figurines sitting on the edge of the basin symbolize the rivers Rhine, Vistula, Oder and Elbe. The fountain was walled in 1942 to protect it from destruction during the war and survived WWII unscathed. Metal thieves damaged the figurines. In 1951 the figurines were stored and the fountain bowl destroyed. In 1967 the art and bell foundry Lauchhammer restored the figurines and the basin was renewed. In 1969 the fountain was re-erected on the area between Marienkirche and Red Town Hall.
We Berliners have nicknames for many things, also for this fountain. The fountain was called "Forckenbecken" which is difficult to translate. The mayor then, 1891, was Max Forckenbeck and a "fork" is a fork and a "Becken" is a basin. So the nickname was created referring to the mayor's name, Neptune's fork and the basin. The four women sitting at the edge (which also is dialect for "mouth") also were used to mock the authorities because there was that saying "Begas, Begas, you made a miracle. You created the first 4 Berliner women holding the edge (*keeping their mouths shut*)". 
The Neptune fountain invites you to linger.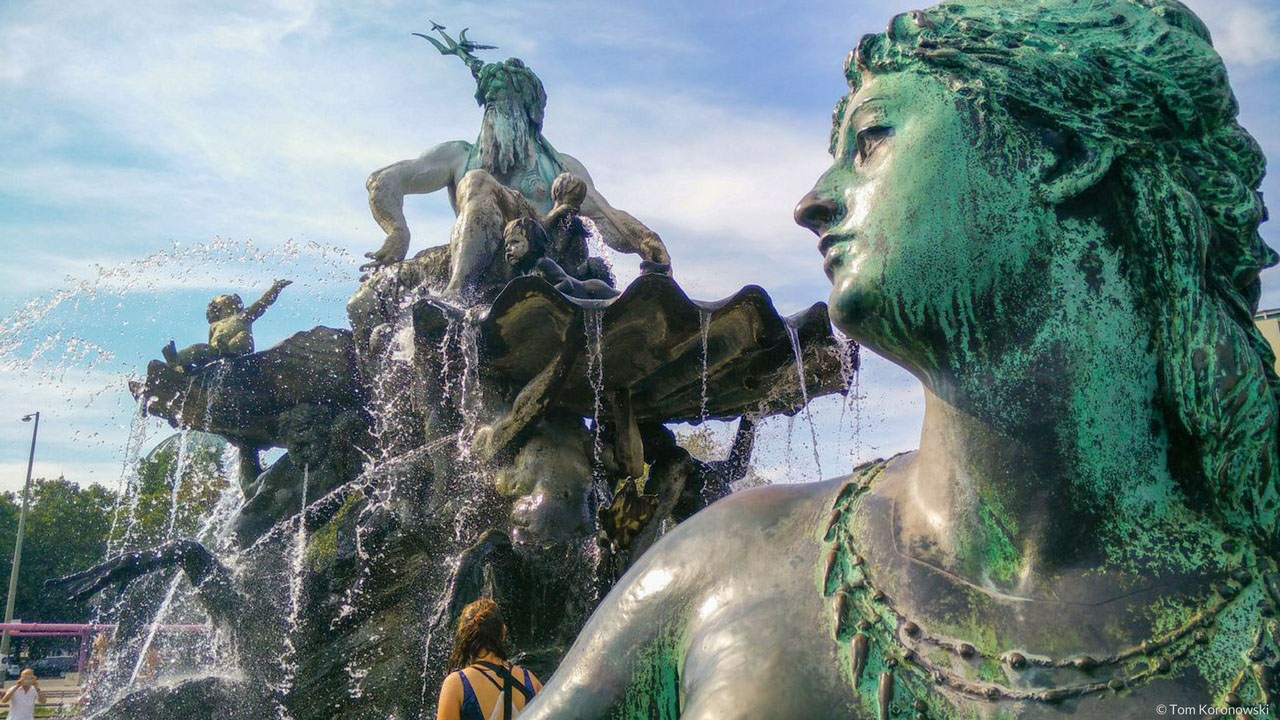 Address: Rathausstraße 1, 10178 Berlin
Connections: S + U Alexanderplatz station (S5, S7, S75, U5, U8, U2), Bus: 100, 200, 248 (S + U Alexanderplatz station), N5, N65 (U Alexanderplatz station) Tram: M2, M4 , M5, M6 (S + U Alexanderplatz station)
more Berlin Tips:
With this ticket you enjoy priority admission. You will avoid long queues and climb, without waiting on seemingly endless lines of people, directly to the top of the tower at 203 to 207 meters in height.
With this ticket you select your desired time. The ticket costs € 21.50.
offer Page
Experience a cool 2-hour-long city tour in a VW Bulli.
You will see 50 sightseeing of Berlin. Jump on and book a ride!
offer Page
Pre-registration for the Reichstag! Enjoy coffee and cake at the roof garden restaurant. A table will be reserved for you.
Duration: 60 minutes. The ticket costs 22,50 €.
offer Page